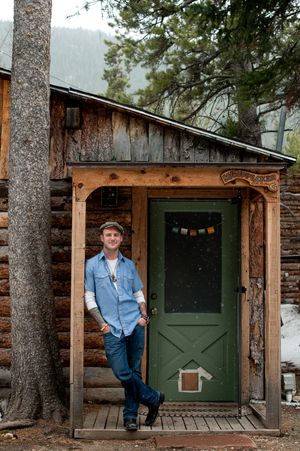 Going stir-crazy? I've been going stir-crazy for sure. Life was not meant to be lived inside nor in isolation. I spend more time alone and in front of a computer than I'd like to admit. I've had to pivot and shift my musical offerings as I learn to navigate the new terrain brought on by the coronavirus. This has resulted in a lot of time at home. Living during this pandemic has at times felt like living in a bunker wondering what the outside world looks like. Though I think it's important to take this virus seriously, I also think it's vital that we take care of our wellbeing. When it comes to taking care of myself, I've always enjoyed thrifting and antique shopping, grabbing a drink with friends while connecting, and going on long hikes in the mountains. Thrifting is off the table and going out for drinks with friends doesn't feel like the safest idea though I've enjoyed the occasional socially distanced happy hour with neighbors. But hiking in the mountains is still a wonderful and safe way to get out of the house and get the blood flowing.  
I realized that I was way overdue for a good adventure so I decided to take the day off on Friday to visit my old stomping grounds. I used to live in the small mountain town of Eldora, CO in a little one-bedroom cabin. I remember winter nights spent writing songs and drinking Côtes du Rhône while several feet of snow piled up outside and the winds roared through the canyon. Summer days were spent exploring the vastness of the Indian Peaks Wilderness. There was a curious and friendly neighborhood fox that would grace my presence on occasion and a family or two of moose that liked to come through town. 
I was excited to return, but I needed supplies so I swung by the St. Vrain Market here in Lyons to grab some nut bars and beef jerky before heading out. The drive from my home takes me along the Peak to Peak Highway and through Eldora to the Hesse trailhead. There are evergreens as far as the eye can see and huge aspen groves. In the fall, people flock from all over to see the leaves turn. I had the sunroof open and the windows down. I could smell the pine trees and feel the wind on my face. It's usually a good ten degrees cooler in the high country.  
The hike began somewhat crowded as this is a popular destination. I helped give direction to a newcomer inquiring about the offroad terrain and chated with a couple from Massachusetts who recently relocated to the area about the various trails and their difficulty. I like to try and get out away from the crowds and push myself so I opted for Jasper Lake via the Devil's Thumb trail, an 8-mile round trip. It's always nice to have a destination with a worthwhile payoff like a great view or glacier water you can dip in. I took a picture of the map and headed off down the trail.  
The junction to split off for Devil's Thumb deviates from the main path. It's almost hidden. I generally lose most people here as they tend to stay on the main trails. Most of the trails up here follow creeks or streams that flow down from the alpine lakes above. I love the sound of rushing water and the coolness it creates in the surrounding area. It's magnetizing and makes me want to connect with the water. I crouched near the edge of the stream, dipped my hands in and splashed the cool mountain water over my head and face, then proceeded to climb the steep trail ahead. Not far after that, I came to a clearing, a beautiful alpine valley full of wildflowers. The expansiveness was a welcome sensation after the usual confines of my home office. At the edge of the valley was a wall of evergreens. I entered the thick forest. A hush fell over the place and the light dimmed. Every zone is alive and has a different feel.  
After the forest, I began climbing again. I got my first views and realized how far I had already come. The trail narrowed as I traversed across the steep mountainside. Rays of sunlight that managed to poke their way out from behind the clouds would cross the landscape like flashlights. Occasionally, smoke from fires on the other side of the continental divide would pass through turning the sky grey and full of ash, the sun casting a strange orange hue. The wind kept things moving.  
Another plateau meant more wildflowers of lavender and gold. As I rounded the corner I could hear rushing water and saw a bridge. On the other side, up a hill, was Jasper Lake in all her glory. I made it! I walked along her banks and found a nice spot to stop and take in everything she had to offer. I dropped my pack, took off my shirt, shoes, and socks, waded out, and then jumped in. The cool glacier water was refreshing, sobering, and reenergizing. As the wind created calming rippled across the lake I took my seat and ate most of the food I brought.  
Feeling reinvigorated and ambitious I decided to go another mile further to Devil's Thumb Lake. A little way down the trail I came in contact with a young buck. He was very inquisitive and curious about me and what I was up to. We hung out for a few minutes playing peekaboo. I enjoyed his energy and thanked him for the experience. Further along, there was a small lake barely noticeable on the map. The reflection of the surrounding mountains on the still surface was as clear as a mirror. I continued for a bit wandering through the trees, and then it happened. Snow! Hidden on the shady side of a hill was a slope of unmelted snow from last winter still hanging on. My first snow sighting of the day. The climate was changing. More rocks were emerging. Trees were becoming sparse and dwarfed in size. I could see the continental divide. Massive rock walls reaching up above all else to touch the sky. Around a bend, I reached Devil's Thumb Lake. It was very different from Jasper Lake. The shores were mostly groundcover and crumbling rock as mountains jutted out from its shores, but the water still moved me and soothed my soul. 
Checking my map again I realized that if I kept going up Devil's Thumb Pass I would summit the continental divide at 11,747 feet. I figured if I had come this far, there was no sense in turning back now. A few minutes later I realized I was officially above treeline. I could see out in all directions. I passed by one last alpine lake of snowmelt nestled at the feet of giants as I made my ascent. The ground was a mix of dry grasses, red ground cover, and rocks. The lack of oxygen and my fatigue were catching up with me. I was stopping frequently to catch my breath and reenergize before powering ahead. The grade was steepening and the trail was thinning. 
And then the clouds parted and the sun came out. It was like an entirely different day. It opened my eyes, gave me strength and hope. The views were breathtaking. I was sure I was almost there. I swore I could see the top. As I rounded the corner I saw a gnarly trail leading me further into the unknown. I had spoken too soon. Then I heard the cry of a marmot and found the little guy lounging on a rock nearby overlooking everything. We hung out for a bit as I caught my breath. Then I continued my ascent. I got faked out with false summits a few more times until I came to another snowbank blocking the last bit of trail before the summit. I managed to maneuver over it safely and get back on track.  
Then everything opened up as I crested the summit of the continental divide. Angelic sunrays poured over the hills and valleys as if heaven herself opened up. The warm wind enveloped me. I felt like I was on top of the world like I could accomplish anything I put my mind to. This hike felt analogous to anything that I wanted to accomplish in life. Make a goal and set out to accomplish it. Keep at it and don't give up. Work through the hard parts. Recognize the beauty that surrounds me and let it give me hope. Not only will I get there I'll exceed my expectations and take it further than I ever imagined. I don't know about you but I need this kind of regular reminder to keep me going. To keep me on track and staying positive and optimistic. I'm resolute to keep up this Friday tradition of adventure and exploration and I invite you to do the same. Find something that moves you, that inspires you to keep going and not give up. And then cherish it as it will nourish your deepest self. 
After I soaked up as much of the experience as I could I turned to leave that magical place feeling raw and victorious. On the way down I hung out some more with my new marmot friend who I can only assume was telling me all about his day through a series of chirps. I ran most of the way down stopping occasionally to take note of the vibrant Indian Paintbrush or expansive views. With every step, the air became easier to breathe and I got closer to my destination. Making it back to my car started to feel daunting. The light of the day was fading. My body hurt everywhere, but I felt strong and capable. There were times when I wanted to give up, but the power of the land gave me the courage to go on.  
My feet were screaming at me as I made it back to my car. I couldn't wait to free them from the confines of my hiking shoes. Some of my toes were numb, toenails purple, and bruised. Every muscle in my body was sore. But I did it. I hiked over ten miles in six hours and climbed thousands of feet in elevation to summit the continental divide and made it back to tell the story, my outlook changed, my spirit revived.  
I wish I could say that it was that easy to turn things around, but wellbeing and self-care take regular maintenance and consistent effort. For me, it's about getting out and moving my body, but it's also about training my mind through meditation and expressing my feelings through the music I write and share with others. My wish for you is that you find the practices and actions that best help you to thrive and live a fulfilling life. May you be healthy, safe, joyous, surrounded by community, and full of abundance.