On January 12th, 2020, in an article written by COMMON (a company that accelerates the launch and growth of businesses that take care of the planet and all the creatures on it.), I was mentioned as one of the 20 SOCIAL ENTREPRENEURS TO WATCH IN 2020. I'm honored to be on this list and to be a part of a community that's committed to making positive change in the world. Read the snippet below, then click on the link to read more and to check out the other nineteen amazing social entrepreneurs on this list.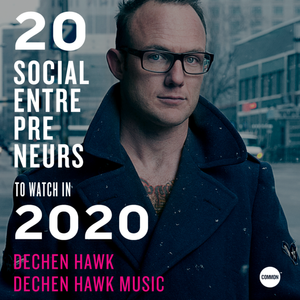 COMMON Members Who Are Changing Capitalism (and the world) For Good. 
As we enter a new year — and a new decade — we've been reflecting on the movement that is redefining capitalism. While we seem to be hurtling towards ecological disaster, faced with humanitarian crises at home and abroad as well as instability in long-standing institutions, we see hope for the future in these entrepreneurs. They're stepping up, kicking ass, and taking names in their respective sectors, rewriting the rules of business in fields as diverse as filmmaking to software and app development to nonprofits. 
So we want to take a moment to shine the spotlight on them: to acknowledge their tireless effects and the impact they make on their communities, from the hyperlocal to the global. 
It's truly an honor to call them friends, and members of the COMMON community, and to work with these creative visionaries and innovative entrepreneurs.