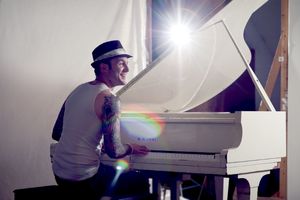 First and foremost, I hope everyone is safe and healthy. I feel for all those that are scared and hurting. Let's remember to be good to each other. We're in this together. I believe it's important that we stay connected socially while observing physical distancing. Call your friends and family. Set up virtual video chats and hangouts. Do some spring cleaning. Prep your garden for planting. Remember to get outside, move your body, and breath fresh air. Meditate to calm your mind, gain perspective, and ground. 
My livelihood depends on connecting, whether it be working one-on-one mentoring up-and-coming artists, tutoring students, teaching music lessons, or performing live for venues full of fans. As of now, all of my shows, rehearsals, and in-person session are canceled for the unforeseeable future. This is a potential crisis for me and my family's financial well-being. 
What I'm Offering
To be resilient and adapt to the current situation, I'm offering two things: 
1. Online Music Lessons & Coaching 
This has been a really fun way to connect and pass the time while under quarantine. All levels are welcome. I offer mentorship to musicians looking to up their game across the board, which can include but is not limited to tutoring for those looking to get into or already in music school, lesson instruction on guitar, piano, and voice, as well as songwriting, theory, and the like. To learn more go to https://dechenhawk.com/lessons-coaching. 
2. Live Streaming Concerts
Keep an eye on my show listings. I'll list my upcoming shows, times, and streaming platforms. I will have a virtual tip jar at all my streaming shows. Your support allows me to keep offering live shows.
What I'm Requesting 
I'm asking for your support in two ways: 
1. Financial Donations
Any amount helps if you're able to donate. This makes a huge difference for me right now. You can send money via Venmo: www.venmo.com/Dechen-Hawk @Dechen-Hawk, PayPal: www.PayPal.Me/dechenhawk or you can also buy my single and name your price. 
2. Spreading The Word
Small gestures like these are still helpful, even just for boosting morale and showing solidarity: 
Play and share my music with your friends 
Add my music to your existing playlists 
Play and share my videos with your friends 
Send an encouraging note to me and your other favorite artists 
Thank you for your continued support! It means the world to me.   
Your support is invaluable. Thank you for being a patron and for supporting the arts.